New Roundabout Welcomes Visitors to Carlsbad with "Coastal Helix" Sculpture
---
In March 2014, the Carlsbad City Council approved the erection of a modern sculpture intended to be the centerpiece of the roundabout newly constructed as the welcoming entrance into coastal Carlsbad. Crafted by renowned, award-winning artist, Roger White Stoller, of the San Francisco Bay Area, the unique piece was chosen over 85 other artists.
The "Coastal Helix" is formed in stainless steel, stands 12 feet tall, and weighs 1,400 pounds. The Carlsbad roundabout opened in May and is the new northern entrance into the city. The sculpture is but one part of the city's plan to improve coastal areas, by making it safer and easily accessible for all travelers into Carlsbad.
The "Coastal Helix" pays tribute to everything that defines the coastal areas of the city. The laced steel abstract sculpture depicts such imagery as a whale's tail, Bird of Paradise, a crab, a wave, sunset, and more. On August 28, a large crane hoisted the 12-foot sculpture onto a 17-foot artisan rock (a representation of Carlsbad cliffs) at the heart of the roundabout. Surrounding the towering sculpture is a wonderfully landscaped selection of indigenous vegetation.
"I created this stainless piece to be unique," Stoller said. "There's magic to be brought to a place through art and part of that is working with the community to find a way to bring this magic out."
Not only has the roundabout improved the intersection of Carlsbad Boulevard and State Street by making it easier for bicyclists and pedestrians to cross, Stoller's breathtaking sculpture has created a wondrous vision to welcome everyone into the city. At night the amazing piece will be illuminated by brilliant LED lights.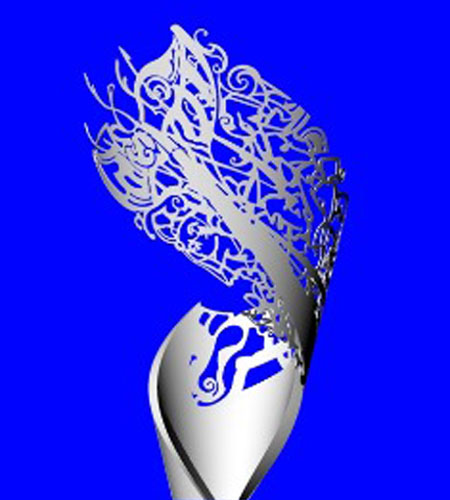 Coastal Helix by Roger Stoller
---
---